The Power of Presence
One-Day Retreat
Sunday 1st October2023
The Power of Presence
One-Day Retreat
Sunday 1st October 2023
The Power of Presence
One-Day Retreat
Sunday 1st October 2023
The Power of Presence
Learn How to Still Your Mind
In a world that moves at an increasingly fast pace, it's easy to get lost in the chaos.
Do you feel that you have too many responsibilities and not enough time? Are you coping with a life challenge? Does your mind race incessantly, leaving you feeling overwhelmed and unable to access inner peace?
If so, you are not alone – many of our clients wish there was a switch in their brain that they could just TURN OFF. Learning how to slow your mind helps you to access that switch.
Reclaim the power of presence.  Access the stillness within.
Cultivating stillness slows down your mind enabling it to embody presence even in the face of pressure and to gain clarity amidst life's complexities.
Fiona, Ciaran & special guests were joined by a great crowd on a day's escape to the tranquil Blessington Lakes in Co. Wicklow.
They immerse themselves in a day of serenity, self-discovery, and inner stillness at The Positive Habit's breathtaking retreat.
The Power of Presence retreat isn't just about finding temporary respite; it's about empowering you with lifelong tools.
Testimonials
The Power of Presence: 1-Day Retreat – October 1st 2023
SS
Overall: 5/5
"It was one of the most amazing days, with amazing people that I have had in a long, long, time."
MG
Overall 5/5
"I think it was excellently run and had great variety…I felt so uplifted after the day…Thank you so much and well done on the work that you do.You really are making such a positive influence on people's lives.."
SOT
Overall: 5/5
"I really think everything was fantastic… A beautiful day I will always remember and look forward to doing more days like this in the future."
GD
Overall: 5/5
"I enjoyed every moment of the day and felt that the timetable was well thought out and the correct amount of time given to each topic so there was no time for the mind to wander!.. I would highly recommend this retreat. From the moment I arrived at the beautiful venue Fiona and Ciaran were so welcoming and I knew it was going to be a special day. Every aspect of the day was planned with great care and the timetable was diverse ensuring you stayed present at all times. More importantly with Fiona and Ciaran's support and guidance I felt truly present and have gained a deeper understanding in how to stay grounded and present in my everyday life. Thank you Fiona and Ciaran for a great day."
LD
Overall: 5/5
"I really enjoyed the 1 day retreat at Avon Hotel. It was so relaxing and empowering…Everything was perfect."
SG
Overall: 5/5
"A really fabulous day, thoroughly enjoyed it…I really loved the day and appreciate all the work that went into it. A truly great location for such an event too…She was born to do this work. She has a great way of explaining things and really helps me to feel grounded when i need it most…Fionas teachings has hugely benefited me in finding ways to find peace and calm when I need it…She deserves every success and I hope she continues her work for many years to come because this world needs her and her teachings/insights."
The Details
When: Sunday, October 1st from 10 am – 4.30 pm (9.30 am – Meet & Greet & Registration).
Where: The Avon, Blessington Lakes, Co.Wicklow. 
Price:  Single Ticket, €149 –  includes delicious, nutritious lunch & tea/coffee. 
What's Included?
The Power of Presence retreat is a thoughtfully curated day offering a harmonious blend of:
R Guided meditations to lead you to stillness
R Engaging talks to impart wisdom on how to invite presence into your everyday
R Mindful movement – gentle Yoga & Tai Chi to connect body and mind with Stuart Breen (see below)
R Walking meditation, where every step becomes a journey towards self-awareness
R Healthy lunch served in the Library Room (included with your ticket)
R Enchanting lakeside intention-setting ceremony
R Exclusive Q&A Session – access to Fiona's wealth of clinical expertise to gain valuable insights into your unique circumstances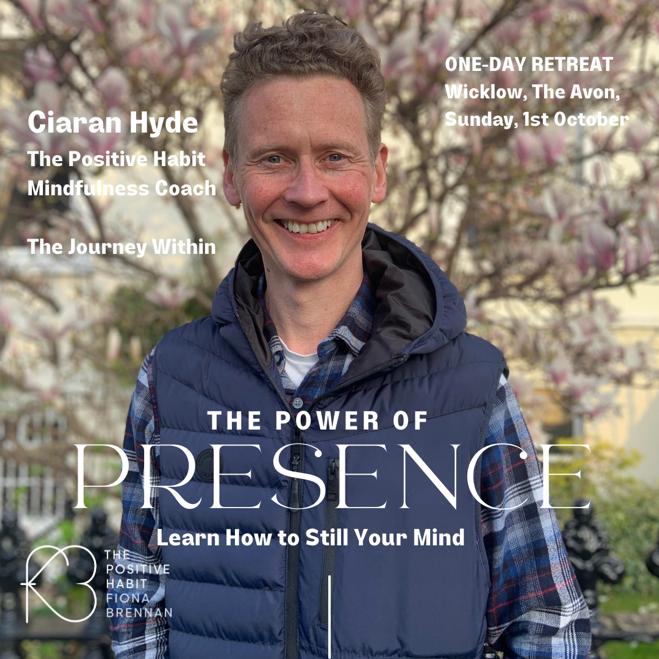 Ciaran is the Co-Director of The Positive Habit. He has trained in Jon Kabat-Zinn's Mindfulness Stress Reduction Course (MBSR) and is currently completing Eckhart Tolle's five-month 'Teacher of Presence' training. He has been meditating and practising mindfulness for almost ten years. He has led both sitting and walking meditations on our retreats. He brings a calm and present awareness to every event.
When he is not meditating Ciaran is engaged on the customer service, planning, IT, accounts and administration of The Positive Habit.
Padraig has practised mindfulness since the late 1980s, has taught mindfulness throughout Ireland and in London, has demonstrated mindfulness on ITV, RTE and TV3 and has had books on mindfulness published in several countries and several languages. His aim is to make mindfulness easily accessible to people in their everyday lives.
When he began to practise mindfulness, not many people had heard of it in the West. At the time people were expected to do long meditations every day which didn't always fit in with the pace of life. Instead he prefers to use simple mindfulness approaches  to help him be mindful during the day and to get the benefits of this truly beneficial practice. This 'easy mindfulness' approach, which has been the subject of Mindfulness on the Go and his other mindfulness books, is what he will pass on to you.
Stuart is a qualified fitness instructor and personal trainer as well as chief Tai Chi instructor with Tai Chi Your Way. He began his in Tai Chi journey at the age of 19 under the guidance of Master Charles Thackaberry.  He worked his way through the forms to advanced long form, weapons forms and martial application training .
He has trained in the birthplace of Tai Chi – Chenziagou, China with Grand Master Chen Xiao Wang and Master Chen Zichang. His path has also led him to India where he has been initiated into Kriya Yoga by his Indian Gurudeva Swami Sadhadananda Giri.
Stuart teaches regular daytime and evening Tai Chi classes in the Dublin 12 area including Kimmage , Walkinstown and Perrystown as well as teaching in many special needs and drug rehabilitation programmes.
He is also available for individual instruction in Tai chi Chuan or Qi Gong.
Rohan Hennessy began teaching Iyengar Yoga in 2000 before moving towards Vinyasa, balancing the importance of alignment and technique with the fun dynamics of flowing transitions. His classes are strong and slow, challenging yet also calming. He believes the asana should adapt to suit the body instead of vice versa. Instead of struggling to make the perfect shape, the focus is on developing correct form and technique whilst progressing towards the perfect shape at your own pace. Developing body awareness, figuring out your natural rate of work, understanding not only the how but also the why of yoga.
As well as teaching regular classes he has worked extensively as a teacher trainer, bringing his understanding of yoga to a new generation of teachers.
The Avon is situated only 30kms outside of Dublin on the lakeshore of the Blessington Lake, right at the foot of the Wicklow Mountains in West County Wicklow.
Please use this plus code to get directions using Google Maps 5F68+JH Blessington, County Wicklow