Good News!
The Positive Habit is here to help in two ways.
1. My five-star Hypnotherapy Programme has helped people all over the world to feel calm and now – 
to help everyone ride the Coronavirus storm, we are now offering it for FREE* with the option to donate. The price is normally €149.95 so this is an incredible opportunity.
The Programme is designed to help you develop unshakeable strength in both the good and the hard times. Learn to create a quiet mind that allows deep peaceful sleep at night and emotional resilience during the day.
For more information and to register please click here.
*Access to the programme will remain free for the duration of the current public health crisis.
More Good News!
2. The 'This Is Me' panel of experts are coming to you live online next Thursday (26th March) to help you adapt to the dramatic change of circumstances.
Flourish Under Fire! Feel Calm, Stay Healthy, Stay Happy!
This questions and answers session is for YOU to ask anything you like.
The event is a reminder that you are not alone; most of the anxiety we feel is shared by many and we can all help each other.
Hosted by the ray of sunshine that is RTE's Taragh Loughrey Grant the panel
Siobhan Murray (Psychotherapist and best-selling author of 'The Burnout Solution')
Allison Keating (Clinical Psychologist and best-selling author of 'The Secret Lives of Adults')
Fiona Brennan (Clinical Hypnotherapist and best-selling author of 'The Positive Habit')
will share their collective wisdom and years of experience in helping people soothe anxiety and fear in hard times.
ZOOM LINK https://bit/ly/ThisIsMeOnline
Please forward your questions by emailing siobhan@siobhanmurray.com
The Panel will select a sample of the most common/frequent questions for discussion.
TO PULL TOGETHER WE MUST STAY APART!
Actually, make that three ways ways The Positive Habit is helping you:
3. Thanks for all the feedback on last week's video. And now, here is another one that I hope will help. In it I ask the question of how you want to look back on this challenging period in a year's time. The video also contains a lovely mediation imagining us all when this situation has passed. And it will. 
I am here to support your emotional response to the collective challenge we all face. 
It is my job to ensure that your mindset is as positive, calm and strong as it can be to ensure your immune system is working at it's optimum and is in the best position to reject the virus.  As my sister said, it is everyone's duty to do their best "to be a barrier, not a carrier"! How we behave now has an impact on everyone. Never before has the inter-connectedness of the world been so clear to so many.
Love and much light,
Fiona
I am delighted to say, I am still seeing my clients online and it is working really well. If you would like to book an online one-to-one session. You can do so HERE.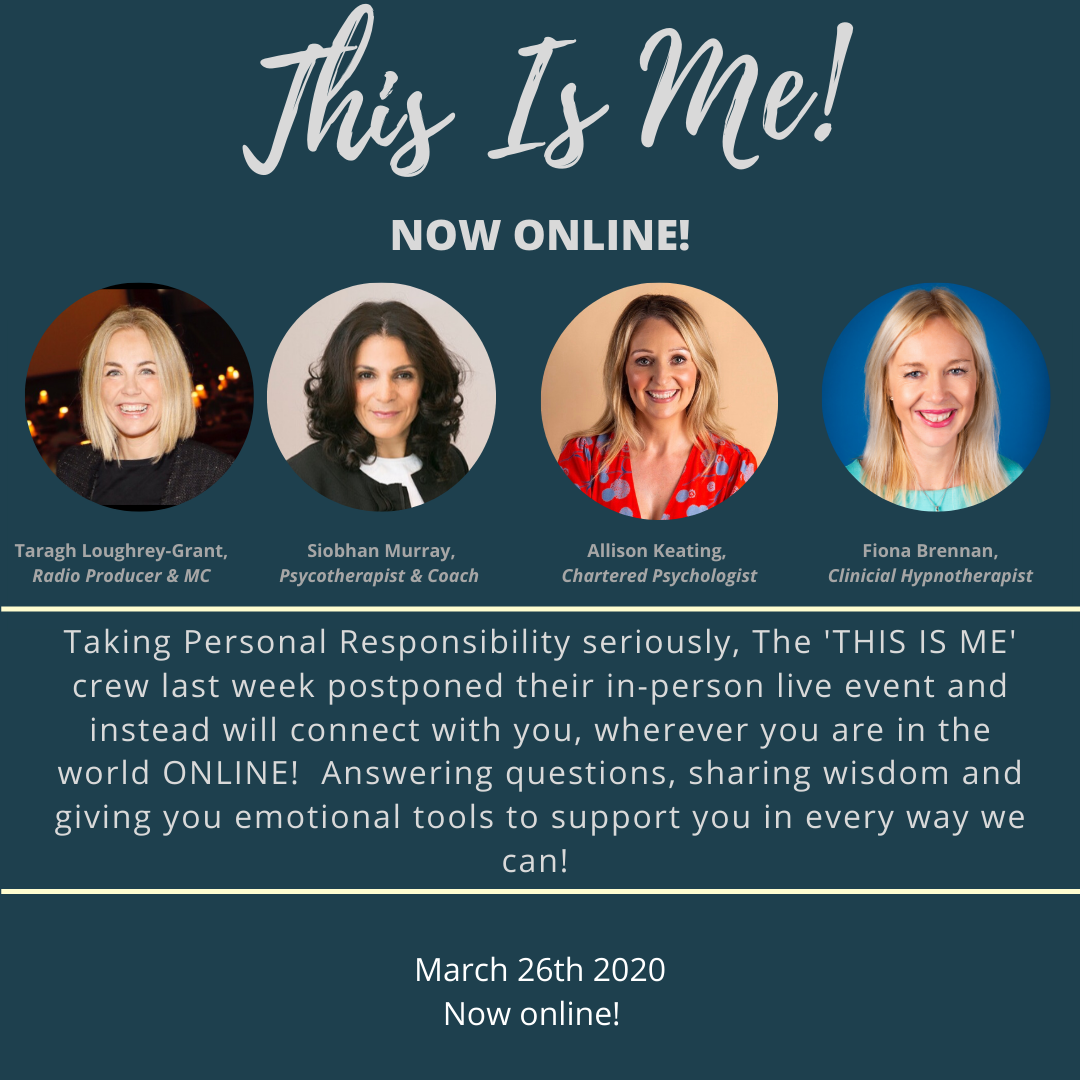 Be sure to follow me on social media, as I share top positive tips and insights during the week. You can find me on Instagram, Twitter & Facebook, LinkedIn and YouTube.
'The Positive Habit' book
is now available as an audio book on both Audible & Borrow Box!
I regularly deliver workshops and seminars.  If your company is interested in a Positive Habit wellness event please get in touch.  You can find out more of the amazing companies I have worked with HERE. 
Evidence-based, rapid transformational online hypnotherapy programme, The Positive Habit trains your subconscious mind to let go of the past & to embrace the future with hope and happiness as you sleep!
MONEY BACK GUARANTEE within 30 days & LIFETIME ACCESS to the life-changing audios
Testimonial from The Positive Habit online programme:
Saturday, February 29, 2020
★★★★★
"This course is very powerful which helped me through a period of anxiety and allowed me gain perspective again. I have since changed jobs and have noticed that I now respond to stressful situations differently, remaining calm. I am much more aware of my stress triggers and have incorporated the positive pause into my daily routine."
Nollaig